Baked-in Pleats
We do not just press the pleats in with an iron. We set the pleats one garment at a time and then we bake them in a steambox reaching over 200 degrees! This guarantees a crisp, sharp pleat that will last!
Nexpander
Like a lot of good ideas, the Nexpander is remarkably simple. A little sliding tab under the collar that expands as a boy's neck expands. Up to two full sizes.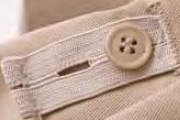 Adjustable Waistband
School Uniform bottoms come with inside buttonhole elastic so it easily adjust for your growing student. When it's time to increase or decrease the waist size, just adjust the elastic band. It's that easy!
Reinforced Pockets
Our pockets are reinforced at the stress points of the garment to add strength for longer lasting quality and finish.
Durable Nylon Zippers
We offer nylon zippers for added quality and durability. Nylon handles stress much better, and repair is less common with nylon vs. metal. All of our zippers are dyed to match our fabric colors.
Double Knees
Students are always crawling around and playing on their knees, so we added a reinforced knee to make this area much stronger.
Elastic Waistband
For those toddlers who like the elastic feel, we offer elastic back pants and shorts for comfort and fit.
Top Stitching
For a better fit, better look, and more comfort, we add top stitching in all the right places.